"It's a hoax — and it's not funny."
~ Gov. Deval L. Patrick, Massachusetts.
Terror has a new look and it created an uproar in Boston yesterday, from the AP on
Yahoo
: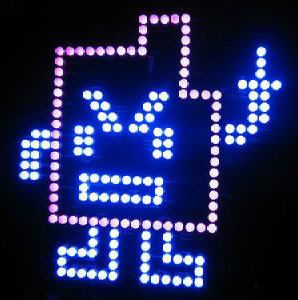 In nine cities across the country, blinking electronic signs displaying a profane, boxy-looking cartoon character caused barely a stir.



But in Boston, the signs — some with protruding wires — sent a wave of panic across the city, bringing out bomb squads and prompting officials to shut down highways, bridges and part of the Charles River.



Something that may have been amusing in other cities was not funny to authorities here, the city that served as the base for the hijackers who carried out the Sept. 11 attacks. Officials defended their reaction Thursday even as two men charged in the case, and some residents, mocked the response as overblown.

Young Bostonians familiar with the unconventional marketing tactics used by many companies tended to see the city's reaction as

unmitigated hysteria

.



Tracy O'Connor, 34, a retail manager, called the police response "silly and insane," contrasting it with that in other cities where no one reported concerns about the devices — an advertising gimmick for the Cartoon Network show "Aqua Teen Hunger Force."





"We're the laughing stock," she said.



Excellent one-line analysis of anti-terror forces going totally spastic over light boxes with cartoon characters giving everyone the finger.
CNN
has more:
Boston Police Commissioner Edward Davis called the stunt "unconscionable," while Boston Mayor Thomas Menino called it "outrageous" and the product of "corporate greed." Democratic Rep. Ed Markey, a Boston-area congressman, added, "It would be hard to dream up a more appalling publicity stunt."

[ . . . ]

Twenty-two-year-old Todd Venderlin, a design student at the Parsons School of Design in New York City, saw one of the devices two weeks ago as he left a lounge in south Boston, according to The Boston Globe. He said he was stunned when he saw bomb squads removing them.


"It's so not threatening --

it's a Lite-Brite

," he told the newspaper, referring to the children's toy that allows its users to create pictures by placing translucent pegs into an opaque board. "

I don't understand how they could be terrified.

I would if it was a bunch of circuits blinking, but it wasn't."

Actually, it would be hard to imagine a more ridiculous bunch of city officials. Boston's mayor should probably shut up about "corporate greed" in this context, since it's the homeland security consultants who are making a killing on the public's being terrified of images of something resembling an electrified Sponge Bob with an attitude. But Mayor Menino spent the day with with everyone snickering behind his back, and that's the real reason he's outraged.
How did other cities react to the presence of the light boxes? More from CNN:
. . .

the devices have been in place for two or three weeks in Boston

; New York City; Los Angeles, California; Chicago, Illinois; Atlanta, Georgia; Seattle, Washington; Portland, Oregon; Austin, Texas; San Francisco, California; and Philadelphia, Pennsylvania.

[ . . . ]

"We haven't had any calls to 911 regarding this," Seattle police spokesman Sean Whitcomb told AP on Wednesday.

Police in Philadelphia told AP that authorities had confiscated 56 of the devices. In New York, a street was shut down for 45 minutes after two of the devices were found on an overpass, the New York Post reported. In all, 41 of the devices were found in the city, according to the newspaper.

In Portland, police Sgt. Brian Schmautz said officers had no plans to remove any of the signs, so long as they weren't on municipal property. Nor had officers been dispatched in any kind of bomb scare related to the devices.



"At this point we wouldn't even begin an investigation, because there's no reason to believe a crime has occurred," Schmautz said.
Reactions to the boxes across the country can easily be explained by the fact that East Coasters are notoriously uptight about everything while West Coasters are not. Or maybe West Coasters are just more in touch with their inner child and have an easier time recognizing a Lite-Brite when they see one . . . especially when they've been hanging around town in different locations for
weeks
.
Boston has become a victim of anti-terror propaganda, to the point that city officials are now unable to tell a bomb from a child's toy. The media, for its part, managed to record and broadcast the entire anti-terror response over the airwaves. Hey, I know I feel safer now.
In the meantime,
Aqua Teen Hunger Force
, the cartoon program whose marketing campaign sparked all the stupidity, is due to release a feature film in late March, when the box offices will tell us whether or not the advertising campaign really worked. Who knows? Maybe ATHF will end up giving everyone the finger again.
Hilarious!